Looking for creative and appealing Minecraft stables ideas?
We discussed unique and inspiring Minecraft stable ideas to enhance the beauty of virtual world and create a thriving environment for horses in Minecraft farm.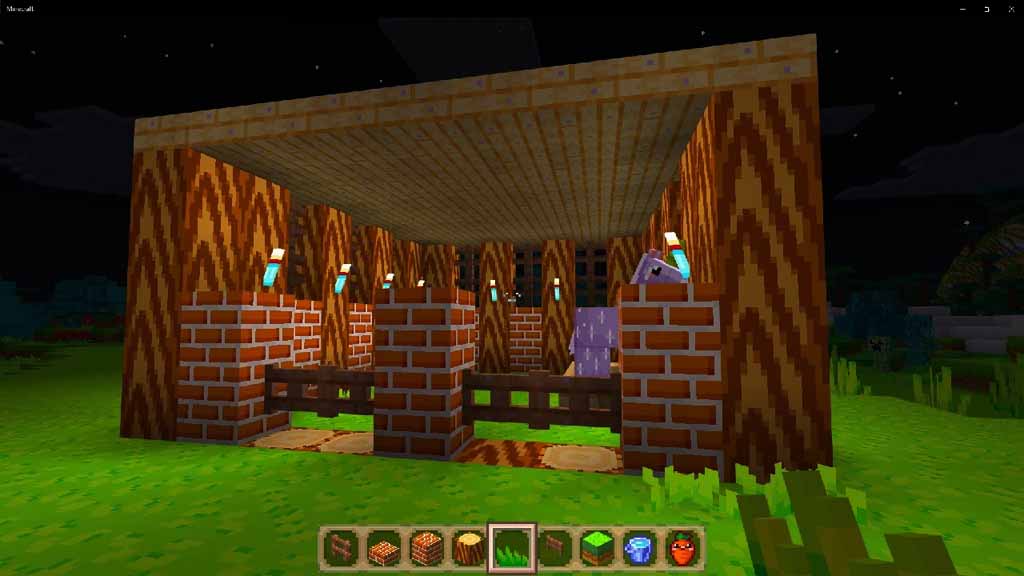 Are you interested in learning about some great Minecraft stable ideas? This article is for you if you want unique stable designs and concepts. Let's get started to discover innovative and creative stable ideas in Minecraft.
Welcome to the enchanting realm of Minecraft, where imagination takes shape block by block! Players are transported into an infinite world of opportunities within this pixelated universe.
Minecraft is an incredibly popular game that allows you to dig into your imagination and creativity. You can build and explore vast virtual worlds, making it a beloved option for gamers worldwide.
In this article, we will explore many ingenious Minecraft stable ideas that will empower you to create an enduring and prosperous virtual existence.
1: Zaypixel – Introducing Well-Organized and Sheltered Stables
First of all, we are going to discuss the Zaypixel for wonderful stable ideas. If you don't know about stable design, you must visit Zaypixel because they offer one of the best designs.
First of all, use some cobblestones to build the foundation.
After that, place some barrels in every corner to construct the pillars. Then, make the roof by using some dark oak. After covering the stable by building a roof, then do floor covering.
For making the floor use some stone bricks to complete the amazing structure. Add lanterns and other details like fences to make a wonderful Minecraft stable.
2: A Well-Designed Oak Stable-Violet Flowergarden
An amazing and innovative stable designed by Violet Flowergarden that would surprise you. This garden will present you with a stunning and attractive stable. The blend of brown shades all over the stable will catch your attention immediately.
After placing brown shades, add some dark oak frames and glowing stones in the ceilings to make it more attractive and innovative. Furthermore, add interesting stall guards to complete the wooden theme look.
You can mix and match all the stall guards to make the stable more attractive and interesting. It would enhance the beauty and attraction of the entire stable.
Then, build some windows and add refreshments that make the area more appealing. After completing your stable, bring your horses here to complete the look of an amazing stable.
3: Vast and Quickly-Built Stable- DibbleCraft
One can build this DibbleCraft design in a very short time. You can make it by adding simple concrete together. Before starting your barn interior stable, you must visit one of the amazing wide-area stables built by DibbleCraft.
In this craft, you must use only three basic tiles to build a fantastic stable. The simplest concrete material includes bricks, oak wood, and deep slate. In order to create an appealing barn structure, it is essential to contrast and coordinate effectively and with innovation.
After choosing the place for the horses, add some trapdoors that would enhance the beauty of the stable. To Keep your horses in a healthy environment, grow some bushes and flowers.
4: Tiny Twin Stables-Blazy
Balzy is offering you attractive and innovative Minecraft stable ideas. Mini twin stable built by Balzy will make your barn look amazing. First, you have to build a small square on the top of the rooftop of your hut. Then to guard your horses, put some fences.
After that, put some horse troughs and hay bales outside the fences. You can build another tiny stall and keep lamps to make it more attractive. That's it! You will get the most amazing stable.
5: Traditional Thatched Roof Stable- Grian
This is another amazing Minecraft stable design. If you are designing a stable for the first time, then you must create this traditional thatched roof stable. In this design, you'll get a traditional horse stable combined with a wavy-thatched roof made by Grian.
In this traditional design mode, you must keep the building simple. With this, you can create a staircase and slabs instead of fences to give it a cooler and classic look. However it might seem complicated, but it is the simplest, most attractive, yet traditional stable.
 6: Adorable Woody Stable- Gorillo
A woody stable look will grab everyone's attention. Gorillo is offering another Minecraft stable design that will give you an attractive woody stable look by following a few steps. We can use Gorillo's woody design to build an attractive stable.
First, you have to use spruce and oak to make the pillars. After that, add slabs and planks to create attractive roofs. Then add fences to separate the stalls, and you will get your woody, beautiful, adorable stable to adorn your barn.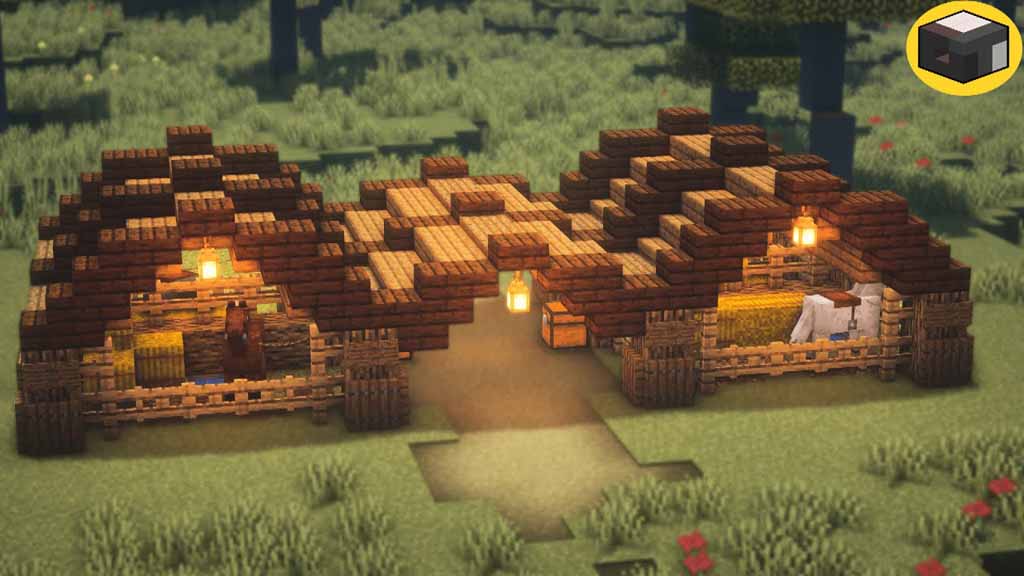 7: Tiny Stables with a Wavy Roof- "These Tutorials Tho"
This small stable is the best option to keep your horses in a comfortable and healthy environment. Therefore, "These Tutorials Tho" showed us how to build such small, comfortable stables.
To create this design, prepare the base and roof of the stable with wooden blocks. Then build a wavy appearance stair. Make a water bucket and cover the shelves with hay to make the cozy and attractive stable.
8: Outdoor Stables With a Sitting Area by "WalkTheWaffle"
Let's discuss one of the Minecraft stable ideas by WalkTheWaffle. Building an outdoor stable is one of the most innovative ideas ever. It gives you and your horses a fresh environment to enjoy nature.
You must build a shelter and stalls in the outdoor stable to protect your horses from the weather. Then, put it in storage and fill some water buckets for the horses. It would complete your stable look.
To create a comfortable and peaceful seating area in an outdoor space, start by using a wooden log to construct the seating around a fire pit in the center. This will help to enhance the ambiance of the area.
One can enjoy an outdoor view and a pond site in this stable. Furthermore, one can add a little garden to make it more beautiful and amazing.
9: Typeface Introduced An Amazing Stable Idea for a Single Horse
Suppose you have one horse and have no idea how to build a small stable. Then you don't need to worry about it now because Typface presents an amazing idea for a small stable where you can keep one or two horses.
A single-stall stable with a wooden roof and pillars is the best option for your horse. Then build a fence to keep your horse safe inside. Add stack in the storage stuff. Your small yet incredible stable for your only horse is ready.
10: Long and Parallel Stables- One Team
This idea is for you if you have many horses and want to build a comfortable and stunning stable. For this, building two stables parallel to each other is the best way to accommodate all your horses comfortably. Moreover, it would be easy to feed them all at once.
One Team introduced this idea to accommodate many horses by building two stables. The Design of the stable is quite simple and easy. You have to use Oak and Spruce material for the execution of this stable. A Muddy floor and storage section will complete your simple, stable look.
11: Church-Like Survival Stables- Fresh Joy
Fresh Joy helped you build an interesting church-like stable with ultimate survival storage. For this, one has to build a wooden room with a pointy roof. Prepare the floor with cobblestones.
Then making stalls and windows will give your stable a complete design. In the end, you must put a cross sign at the top to make it a church-like survival stable.
12: Strong and Protective Stables- Sv Gravity
Sv Gravity gives you an amazing idea by building a protective stable. This idea will help you to make stables that will amaze everyone. For this, one must put barrels and build pillars using stone bricks.
Use wooden slabs to construct a stair-like roof. Add a little stall in the corner. That's it; your stable is ready just let your horse in and complete your stable look.
13: Pretty White Stables- Rosaliacraft
For more Minecraft stable ideas, Rosaliacraft gives you a unique idea to build a white stable for your horses. This will provide you with an aesthetically pleasing environment for your horses.
To make the white stable, take white concrete to build the basic structure of the stable.
Then, use glass material to make the windows and interior of this white stable. To make the rooftop, use birch and glass slabs. Complete the stable by using white tiles for the ground. And add hay bales and a composter as options for storage materials.
Lastly, if you give a more fine look to your white stable, add some grass with few footsteps on it. To make it more attractive, add lamps. That's it, and your attractive white stable is ready for your horses.
Bottom Line
We have discussed the most unique and attractive designs to make your stable look impressive and stylish in Minecraft. These Minecraft stable ideas will enhance the beauty of your farm. These incredible designs will give your animals a healthy and lively atmosphere. So, get up, choose the best design, and make your farm the best for your pets.