Top Pakistani Journalist Mujibur Rahman Shami Biography
Mujibur Rahman Shami is Ex-President Council of Pakistan Newspaper Editors (CPNE).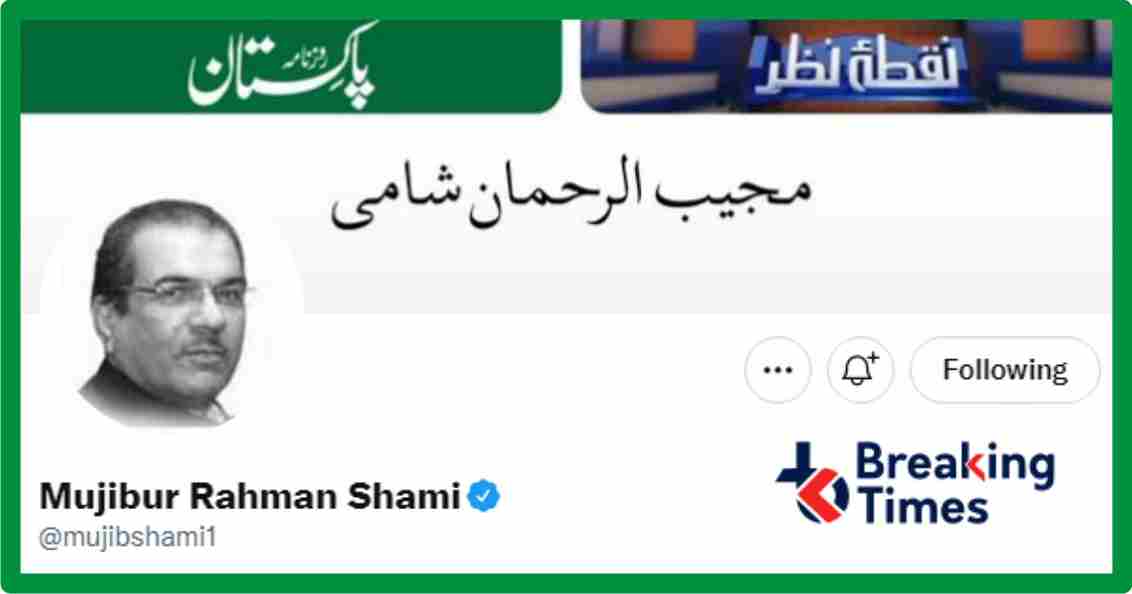 By : Arshad Farooq Butt
Mujibur Rahman Shami is a top Pakistani journalist and columnist. He is Editor-in-Chief of Daily Pakistan and Analyst at Dunya News program Nuqta-E-Nazar.
Mujeeb-ur-Rehman Shami ( in urdu مجیب الرحمن شامی ) is the founder of Qaumi Digest and Zindagi Magazine. He writes columns every sundy for Roznama Dunya and Roznama Pakistan. He writes urdu columns fo Roznama Dunya with title Jalsa e Aam. He is also the president of Karwan e Ilm Foundation.
Mujibur Rahman Shami Twitter Account
Mr Mujeeb ur Rehman Shami managed to adopt new technology and did not vanish like his other contemporary journalists. He joined twitter on November 2014 with twitter handle @mujibshami1 and has 315k followers.
Mujibur Rahman Shami Facebook Account
Mujeeb ur Rehman Shami is also active on Facebook. His facebook page has 531k followers. You can access his facebook account by typing www.facebook.com/mujibshami in chrome browser.
Dunya News Program Nuqta-E-Nazar
Nuqta-E-Nazar is a current affairs show that carries top stories of the day with historical and future perspective. This promgram is hosted by Ajmal Jami and Mujeeb ur Rehman Shami. It is aired on Dunya News from Mon to Thu at 7PM.
Daily Pakistan Newspaper
Daily Pakistan also called Roznama Pakistan is one of the most widely circulated Newspapers in Pakistan like Jang and Nawaiwaqt. English Website of Daily Pakistan has also been launched which is the most visited source of news in Pakistan.
Also Read:
Mujeeb-ur-Rehman Shami Hints Impending Martial Law
Dunya Tv News Channel Live Streaming in Urdu
Top Pakistani Journalist and Strategic Analyst Salman Ghani Biography
Dunya News Think Tank Analysts Expect Elections This Year