Pink Couch Living Room Ideas: Step Outside From Typical Colors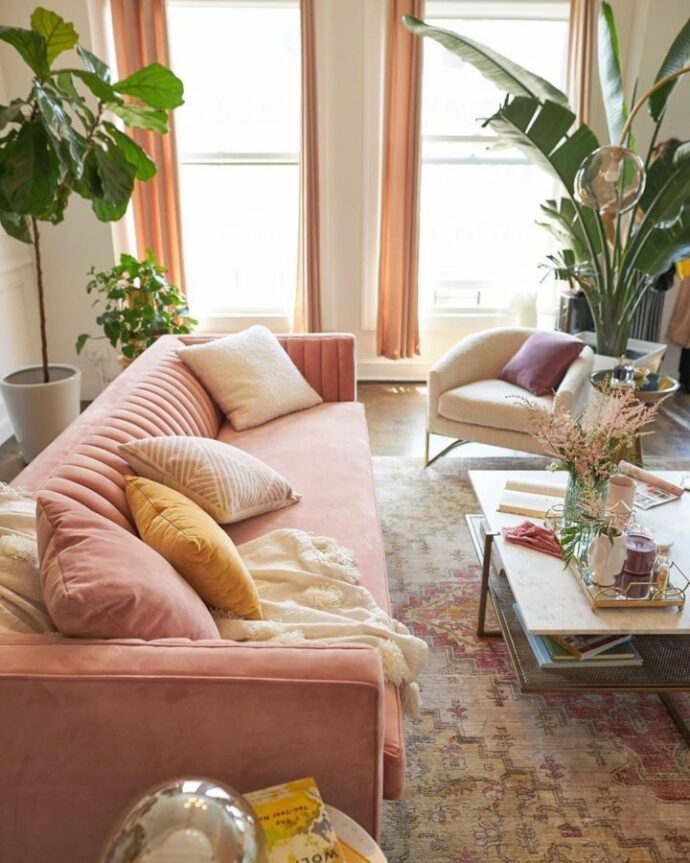 People love to décor their houses in different ways. Most people are curious about their living room area, like which color they should add for curtains and which sofa color is best according to wall paint. Decorate your living area with fun to involve the bright color that can be a new experience. To select a sofa color, everyone talks about different colors; among these, pink is the most fascinating color. If you place a large piece of furniture like a sofa in pink color, you can open up many opportunities to step out of the comfort zone of beige, brown, and white.
There are pink couch decorating ideas that are useful for you. The soft, comfy, and perfect shade of pink steal the show in your living room idea. If you are new to start, this article is perfect for learning how to use a different color couch to make your room different.
Ideas For Pink Couch With Other Furniture In Living Room
Most pink shades do great in dark wood living rooms. A pink couch will help balance out all the other elements, and create an attractive equilibrium in the room. This shade does not have to be too dramatic. If you want a pink shade, prefer pink pastel color that will do a great job.
Consider having matching artwork, a lamp, or a rug of the same palette. Choosing the lighter shade is not so vibrant, and you get a less noticeable effect, which makes your living room unique. You can add several bright green plants with this color that is perfectly attractive with a pink color sofa. Moreover, you can add some other vibrant colors to your living room with a pink couch. It balances the entire space eye-catching. You will never disappoint by adding a bright pink color sofa.
Also, a coffee table can increase the elegance of the place. So must try these, and the result can be gorgeous.
Color is not only the one thing; also consider the sofa's texture, fabric, and overall composition. Playing with shapes also gives you a different experience to you.
Therefore, always try different things to make a synchronization or use their creativity. When you select different things, the house's overall design can give you better results. So try a pink couch as a decorating idea for your living room, and make your space gorgeous.