Types of Corset: Popular Corset Materials and Tips To Wear Corset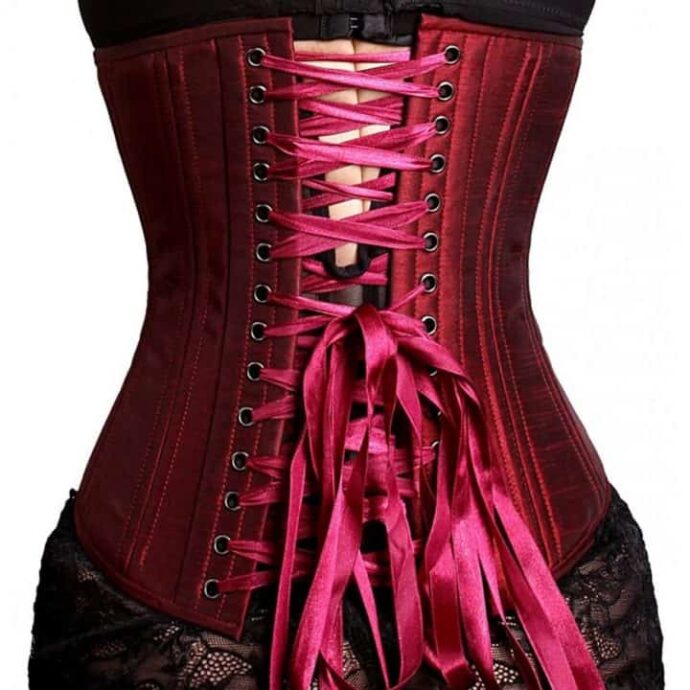 Women always want the best figure and love the shape and confidence that body wears give them. A corset is a tool to slim the waist and exaggerate the hips and bust to get the desired figure. It comes in different styles, shapes, materials, colors, and patterns. The corsets are available in steel and plastic boning that can be worn under the clothes to look slim.
According to their choices, women can select overbust or underbust with fewer and more curves. In this modern era, the corset is essential in women's lives. It also improves their posture, which gives them confidence. Many corset fashion designers worldwide are creating corsets according to all body types and cultural sensitivity that will keep them comfortable. Let's talk about popular corset materials.
Popular Corset Materials
Satin: this is a popular and usually worn material of corset. It considers an ideal option for you for an hourglass figure without showing.
Mesh: Another is Mesh, a breathable and light material. It is ideal for summer and gives the body a great silhouette. Whether you want to wear it under or over the clothes is your choice.
Cotton: Cotton is a casual and comfortable corset material for a waist cincher. It is breathable and durable.
Leather Corset: Leather is also a comfortable material to wear over clothes. It gives you a stylish look and is recommended to wear during waist training because it stretches out.
Brocade Material: This is a durable, thick, polyester blend material that can be worn as a stylish accessory.
Tips To Wear Corsets
The very first thing is that it usually wears with a chemise underneath. It goes well in an undershirt to absorb sweat to keep it clean. The lacing is kept for rightened the front busks. Laces are kept in the middle to shape and support the body. Another tip is for selection; always choose the right type on base on your figure, occasion, and personal style. The fourth tip is to never throw it away in the machine or hand it in your closet because you need to care for it properly.
Types of Corset
There are different varieties of corsets, and different designers design these for multiple purposes. Here we will discuss multiple varieties, and you can select what suits you best.
1.Underbust Corset
If you want to wear a corset for the first time, an underbust one is the best to buy. After that, you can add more styles and materials like PVC and Leather. Moreover, you can wear supportive undergarments or any fashion accessories over the clothes.
The underbust corset gives you a glossy look, as it can be worn over any dress or skirt. However, it does not provide support for the breasts. In popular underbust corsets, longlines, Cincher, wide straps, and bodice corsets are included.
Longline underbust extends over the hips and is ideal for tall women because of long torsos.
The Cincher underbust is a shorter corset with a pointed silhouette. It is longer at the center front and back but short at the sides.
Besides, a corset with wide straps is a cross-back style. It is available for both over and underbust. It is more suitable for those girls who have wider shoulders. The last underbust is the bodice which provides coverage and support for the whole heck and the trousers.
Other Types of Underbust Corsets
Waspie
This one is perfect for shorter torsos and fuller busts. It is a short underbust and a wider belt around a woman's stomach. It reduces waist size and is less constricting. It is available as steel boned corset and ideal for waisted training. You can wear them for fashion purposes, layered over dresses and shirts.
Waist Trainers/Cinchers
Here is another type of corset made with cotton, mesh, or leather. It could be worn as a fashion statement. It creates a temporary hourglass figure but can't train the waist. Moreover, proper waist training can modify figures semi-permanently.
Overbust Guest
This overbust guest corset helps to lift the breast and reduce the waistline. It begins under the arms and above the hips. It supports you, and you can wear it casually daily to make yourself elegant.
Types of Overbust Corsets
Cupped Overbust Corset
It is built in pads and is preferable for all women with larger breasts. The reason is that it gives better support to the breasts.
Lingerie Corset
It comes with G string and has built-in or detachable garters to hold up the stockings. Well, these are all multiple types of corsets. Many designers offer bustiers, sweetheart neckline corsets, and flat front styles.