CEO Edu Shakar Garh Takes Notice of School Girls Dance to Indian Song
The female teacher who taught dance to the school girls has already been suspended.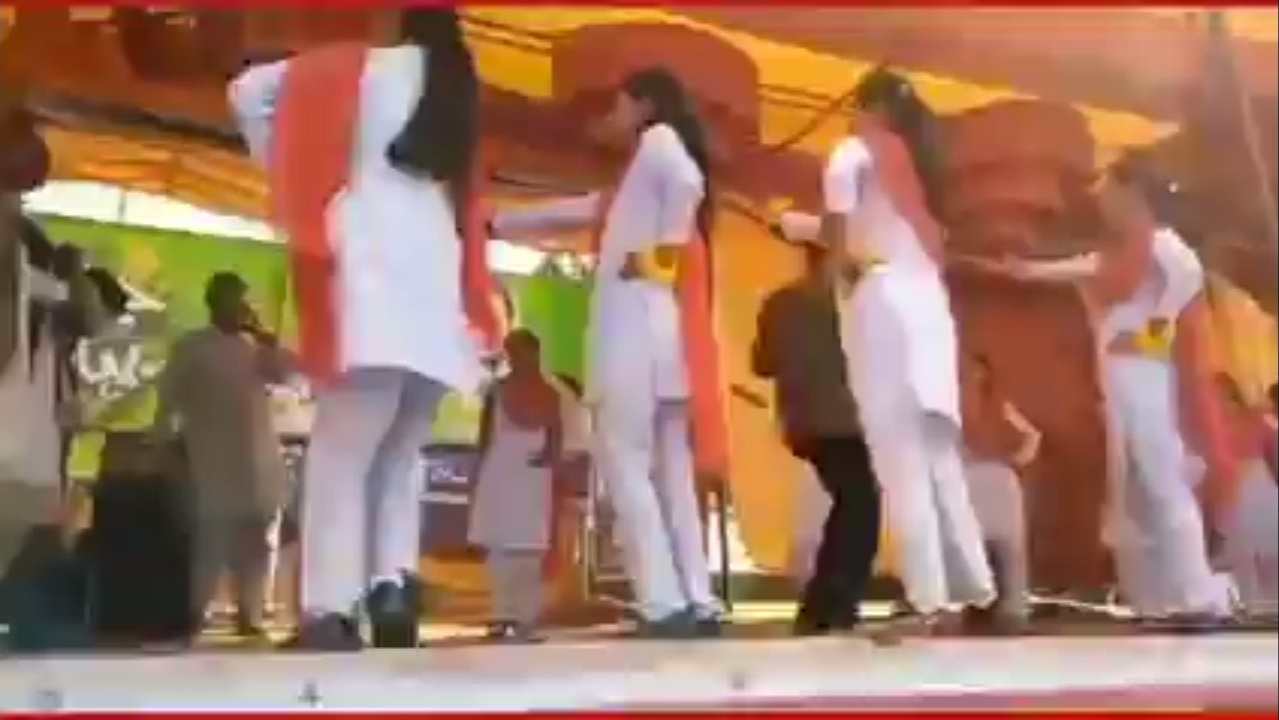 Shakar Garh ( The Breaking Times – Arshad farooq Butt ) Chief Executive Education Shakar Garh takes notice of Government Girls High school No 2 girls dance to Indian songs at Jashan e Baharan Festival.
According to details, female students of GGHS No 2  danced to Indian songs at the Jashan e Baharan Women's Festival last week. The video of the young school girls dancing went viral on social media, which is being severely criticized by social and religious organizations.
Shakar garh CEO Liaqat Ali has formed an inquiry committee consisting of two senior headmistresses to look into the matter and submit a report to the CEO education in three days.
The female teacher who taught dance to the school girls has already been suspended. While other education officers have also submitted their written statements to Assistant Commissioner Shakar garh.
Lawyers of Shakar garh Bar have filed a petition in the police station seeking legal action against the officers responsible for the school girls dance. Shakargarh DSP Malik Khalil has said that action will be taken as per law.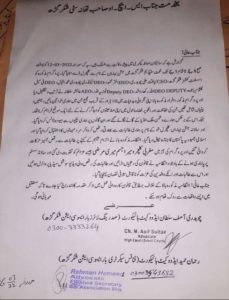 Application has been submitted by President Young Lawyers Bar  Association Shakar Garh Ch Asif Sultan adv High Court and Finance Secretary Bar Association Shakargarh Rehman Hameed Adv High Court.
The petition states that a cultural day was celebrated on March 12، 2022 at Nemat Stadium, Shakargarh in the name of Jashn e Baharan or Spring Festival.
The program was organized by Assistant Commissioner Shakar garh, Chief Executive Officer Education Liaquat Ali Chaudhry, DEO Akhtar Mahmood, DEO Secondary Chaudhry Muhammad Iqbal, DEO Female Kalsoom Bajwa, Deputy DEO Allah Rakha Rashid, Deputy DEO Fauzia Anwar and AEO Ayesha Sultana.
Under the guise of the cultural program, Mera Jism Meri Marzi intentions were strengthened and the Sound Act was violated. So it is requested to register a case against all the responsible officers.
Senior Journalist Ansar Abbasi has shared the video on his twitter account and asked the question:
What kind of education is this? What kind of training is this? Girls are sent to school. But the education officers are being welcomed by making them dance to Indian songs. A senior Punjab government official has said that they are taking action against those responsible. Hopefully action will be taken against those responsible.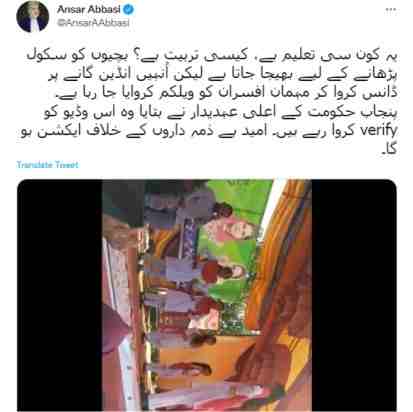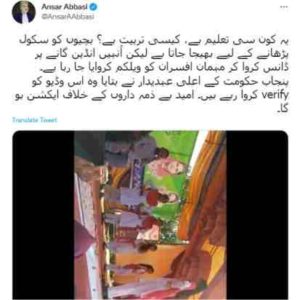 After the incident, Education officers are explaining the situation. District Education officer Secondary Shakar Garjh Muhammad Iqbal has said that both the female teacher and her headmistress of govt girls high school no 2 have been suspended and the inquiry is in progress.