Indian Super Sonic Missile Crashes in Mian Channu City
DG ISPR Press Conference about Indian Fast Moving Object in Pakistan.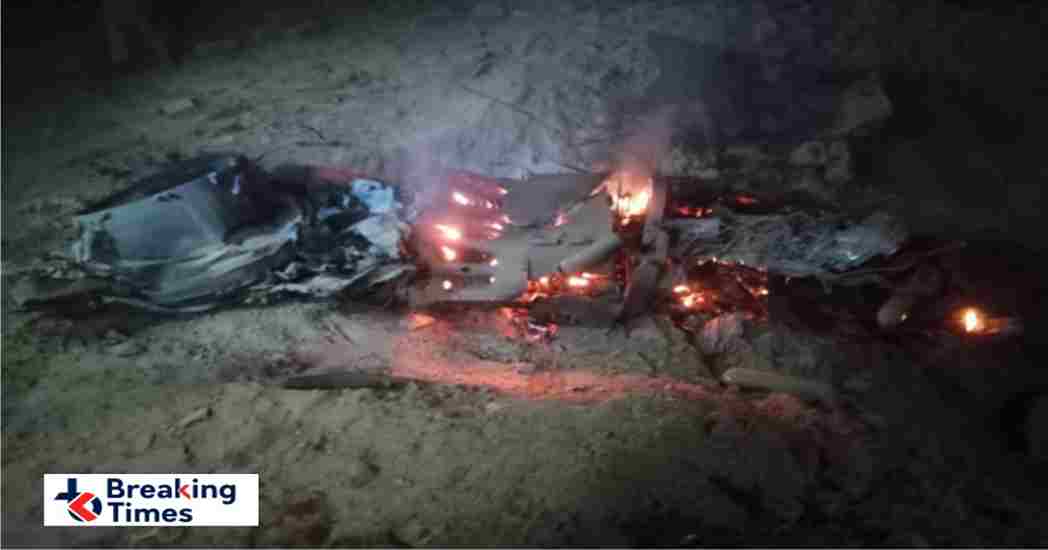 Mian Channu ( The Breaking Times – Arshad Farooq Butt ) DG ISPR has said that an Indian Super Sonic Missile crashed in Mian Channu city of Khanewal district yesterday.
According to the details, Mian Channu people heard a blast yesterday and thought it was an Air Force Plane. Pakistan Air Force denied rumors that the plane that crashed in Mian Channu belonged to Pakistan Air Force.
A Pakistan Air Force spokesman said the plane that crashed in Mian Channu did not belong to the Pakistan Air Force.
It was believed that a small training plane crashed in Mian Channu city of Khanewal district. Police and rescue personnel rushed to the spot after the incident and took part in the rescue operation.
According to rescue in-charge Dr Khalid, no casualties were reported from the crash. But some houses destroyed in the blast.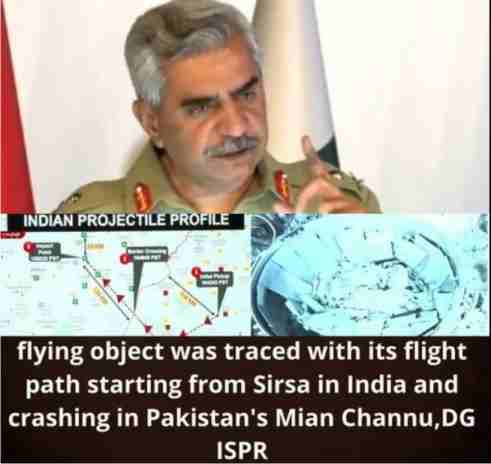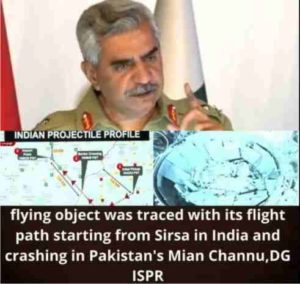 India has once again violated Pakistan's airspace. DG ISPR Armed Forces General Babar Iftikhar has said that a missile entered Pakistan from Indian borders on March 9.
The Pakistan Air Force fully monitored the missile. The DG ISPR said that a missile from Indian territory violated Pakistan's airspace at 6:33 pm on March 9. The Pakistan Air Force fully monitored the missile.
DG ISPR said that Pakistan condemns violation of airspace. India has to explain this incident.
Pakistan has always proved to be a responsible country. Major General Babar Iftikhar said that the missile remained in Pakistani airspace for 3 minutes and 24 seconds and necessary action was taken against it in time. The missile was possibly unarmed. We are not provoking the incident in any way.
India admits mistake in firing missile at Mian Channu city of Khanewal District
India says its missile went off due to a technical glitch. The missile landed in Mian Channu Tehsil of Khanewal District of Pakistan.
According to NDTV news, the Indian Ministry of Defense said that the missile was fired due to a technical glitch which was very unfortunate.
On March 9, 2022, during routine maintenance, a technical malfunction caused a missile to explode. The Indian government has taken strict notice of the incident and ordered a high-level inquiry.
Indian Defense Ministry said in a statement that it had learned that the missile had landed in an area of ​​Pakistan. Although this is a very sad incident, it is thankful that there were no casualties in this accident.
Foreign Minister Shah Mehmood Qureshi Response on Indian Super Sonic Missile in Pakistan
Foreign Minister Shah Mehmood Qureshi has expressed outrage over the incident and asked India to respond to it, saying that missile fire on a nuclear country could lead to war between the two countries.
Prime Minister Imran Khan's National Security Adviser Moeed Yousuf has said that it took India two days to acknowledge that its missile had crashed into Pakistani territory due to a technical glitch during routine maintenance.
In his video statement, he added that India's supersonic missile flew at an altitude of 40,000 feet and covered a distance of 250 km, endangering the lives of international and local commercial aircraft and passengers.
Pakistan has demanded a joint inquiry into the launch of a supersonic missile from India and its landing in Pakistan. The State Department says it is not enough to call the missile launch a technical glitch and express regret. The international community should take serious notice of the incident. Pakistan has also sent 7 questions to India on this issue.
A statement issued by the Foreign Office on Monday said that the serious issue of missile firing by India could not be resolved with the simple explanation of Indian authorities. Pakistan demanded a joint investigation into the matter so that the facts of the incident could come to light.
Foreign Office Spokesperson Asim Iftikhar Ahmed has said that this incident indicates that there are many serious technical shortcomings in the control of India's strategic weapons.
The National Security Adviser said the incident also raised serious questions about India's ability to have sensitive technology. The explanation is also dubious.
Also Read:
Police arrests Saniha Mianwali incident accused