The UAE updates its Tourist and Residency Visa System
Visas will be issued without sponsorship for investors and businessmen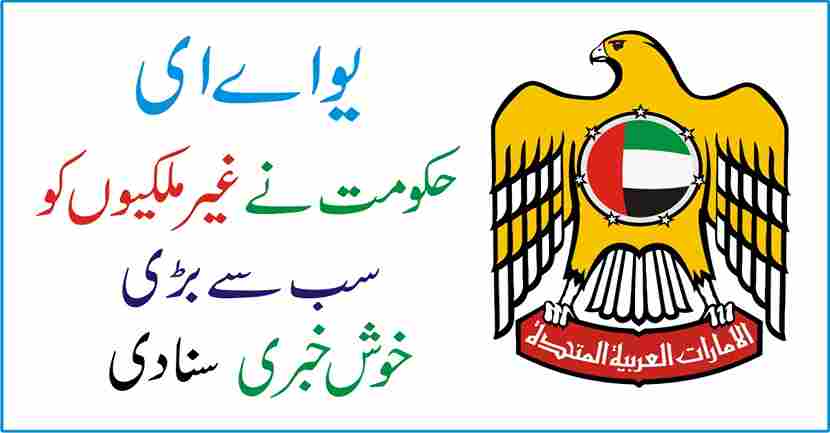 Dubai ( UAE Urdu Media Network – Arshad Farooq Butt )
The United Arab Emirates has revised the issuance and conditions of visas, allowing parents with residency visas to now sponsor children up to the age of 25. There is no age limit for unmarried daughters. Earlier, the age limit for child support was 18 years.
According to the new amendments, residence permit is allowed to remain in the country for six months after revocation or expiration.
The new system is announced at a cabinet meeting on Monday, chaired by UAE Vice President, Prime Minister and Ruler of Dubai Sheikh Mohammed bin Rashid Al Maktoum.
According to the UAE government's media office:
"major reforms include simplifying entry requirements for all types of visas and offering longer visas that meet the needs of visitors and the purpose of the visit."
The new system includes Golden Residence, Green Residence, new benefits for family members, new system for entry visa, entry visa for job seekers, business entry visa, tourist visa, entry permit to visit relatives and friends, entry permit for temporary work missions , education and training entry permits, etc.
The UAE's state-run news agency WAM has described the new status of the visa system as follows.
Golden Residence UAE
This long-term 10-year residency is offered to investors, businessmen, exceptional craftsmen, scientists and professionals, highly qualified students and graduates, philanthropists and frontline heroes.
Recent amendments would allow the Golden Residence Holder to sponsor family members, including spouses and children, regardless of their age, and support services (domestic) employees without limiting their number. There is no longer any restriction on the maximum length of stay outside the UAE to maintain the Golden Residence.
There are other benefits for family members that allow them to stay in the UAE until the expiration of the permit in case of the death of the original holder of the Golden Residence.
Similarly, the Golden Residence for Professionals has been greatly expanded to cover all fields including Medicine, Sciences, Engineering, Information Technology, Business and Administration, Education, Law, Culture and Social Sciences.
Green Residence UAE
Skilled employees within this category are offered five years of residency without any sponsors or employers.
Applicants must have a valid employment contract in accordance with the regulations, and be ranked in the first, second or third professional level according to the UAE Ministry of Human Resources. For this, the minimum level of education should be bachelor's degree or its equivalent, and the salary should not be less than 1500 AED.
Green Residence for Freelancers
Freelancers and self-employed people are offered a five-year residency without sponsor or employer. All they have to do is get a permit from the Ministry of Human Resources and their annual income should not be less than 360,000. Similar benefits will accrue to the investor or partner.
Holders of green residences are now also allowed to issue residency permits to their close relatives.
Tourist visa UAE
In addition to the regular tourist visa sponsored by the UAE tourism sector, a five-year multi-entry tourist visa has also been introduced.
This type of visa does not require a sponsor and it allows the person to stay in the country for 90 consecutive days, and can be extended for the same period, provided that the entire period of stay is one. Not more than 180 days in a year.
However, from September, in addition to the multi-entry tourist visa, ordinary tourists will be able to stay in the UAE for 60 days. Thus, the Cabinet decision has now doubled the length of stay for tourism in the UAE.
This will benefit those who want to spend long holidays in the UAE or those who think of staying here permanently and thus will have more time to find new employment opportunities.
Also Read:
PMLN UAE congratulates Prime Minister Shahbaz Sharif
Pakistani Embassy in the UAE issues Warning to Protesters
What to do if the passport is lost or stolen in the UAE?
UAE Flights : Vaccinated Tourists Don't Need Covid-19 PCR Test
Indian Woman wins 22 million Emirati Dirhams Lottery in the UAE
The UAE introduces 12 types of work permits from today
Visa Status Check UAE Using Passport Number
Smart GDRFA Approval for returning residents of Dubai UAE
Non Muslim couple issued a marriage license in the UAE